Garden Waste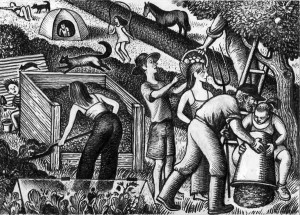 Gardens are the natural home for compost heaps and every garden should have at least one. Once you get the composting bug you will realise that one compost heap is just not enough and you will start thinking of different ways to utilise all the organic matter you can lay your hands on. You may even end up running or helping out a community composting project so take care!
Systems for composting garden waste at home
There are lots of options for composting at home, from simple piles, New Zealand style bins and making leafmould. For ways to use your compost and other organic gardening fertility techniques visit the fertility gardening page.
Compost heap
The simplest compost heap is just built on the ground. This in fact is a really good way of making compost, especially for larger quantities. The heaps pictured are called 'windrows' and are carefully constructed, layering tougher materials which allow the airflow, with softer wetter materials. If a pile gets to big to keep adding to the top it is extended longitudinally.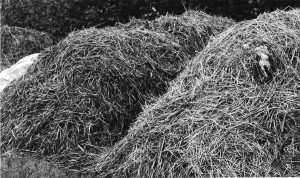 The downside of piles is they do tend to sprawl and can look untidy, so many people want to contain their heaps in bins. The easiest way to do that is to use old pallets and tie them together with baler twine.
New Zealand bays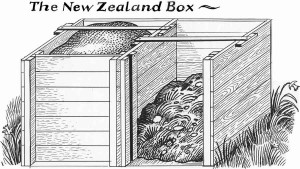 Similar to a basic heap, but New Zealand boxes are more contained, and have slats at the front that lift out so the compost can be removed easily. They are also usually at least in pairs so one can be left to 'rest' while the compost breaks down, whilst the other is 'active' with new material being added.
 Dalek composters
Most people have small gardens, which is where the 'Dalek' systems come into their own. They come in a few different shapes and sizes but are basically the same. Some have doors at the bottom, which often break and fall out. In my opinion the simple ones without doors are best and you can just pick the whole bin up when you want to harvest compost.
Leaves
Dealing with leaves is ridiculously simple. If you only have very few then just add them to your compost or leave them where they are! Alternatively you can stuff them into plastic bags, they need to be wet and they will break down over a year or more. I'm trying to wean myself off using plastic though and if you have lots of leaves just contain them in a pile.
Weeds
Pernicous weeds need a bit of care. Firstly remove as much soil as you can. If this is a problem because you have sticky clay soils and the weed roots are snapping off then your best bet is to make a long term loam stack. Pile the weeds and soil into a neat shape that you can build up and then cover with a light proof material. Old silage clamp plastic is ideal. Failing that you could use newspaper, cardboard, old bits of wood and corrugated iron etc and exclude the light. Plants die without light and if you can do this for a long time a year or more you will end up with lovely loam from your couch grass, bindweed, buttercups etc.
Drowning is another alternative. Weigh down the roots in a barrel of water and again cover from light if possible. You will create a smelly but nutritious juice which you can water down to feed plants and kill the weeds. the solids can then go on the compost heap or be mulched.
How to compost garden waste
Nicky was asked many years ago to write a simple guide on composting by Green Books – see www.greenbooks.co.uk the slim booklet has been bought by many Local Authorities now to give out at composting promotions and bin sales and is beautifully illustrated by Bob Gale who also illustrates our newsletter 'JUNK MAIL'.
Although composting is very simple and once you really 'get' the idea of creating a balance between air and water and realising that all compostable materials are a mix of the two either veering towards wet, soft, 'green' materials or towards hard, dry, 'brown' materials, then you understand the importance of maintaining this balance.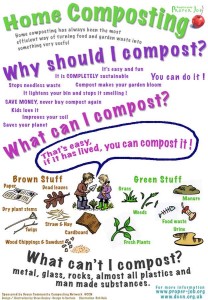 Of course there are always lots of questions and details wanted: 'What about pernicious weeds?'; 'What to do with all those grass cuttings?'; 'What about piles of autumn leaves?'. The Composting for all booklet does cover all these questions and further books by Nicky Scott have gone into a lot more detail so if you really want to set off on the road to becoming a compost and soil nerd then why not get a copy of.
This book not only has a handy A-Z guide of everthing you can think of just about but also expalins why you should make compost and how to use it.
And if you can't be bothered to read why not look at our You Tube Channel and look at the films we have produced.

Teignbridge District Council commissioned this one which is aimed at getting the best out of your 'Dalek' composter, although most of the advice will work for any composting system. It is broken down into handy sections which are all available on our videos page.